Hello to everyone still receiving our emails. Last week's newsletter had an open rate low enough to catch our eye and prompt a quick investigation. At first, we couldn't figure anything out. Then we came across a Search Engine Journal article yesterday titled Gmail Glitch Sending Newsletters To Spam, MailChimp Confirms.
Search Engine Journal experienced the same low open rate with their most recent newsletter and thought to ask MailChimp about it (smart move on their part). MailChimp told them that "an undisclosed number of clients" are affected by an ongoing Gmail issue that's causing newsletters "to be redirected to subscribers' spam folders instead of their primary inboxes."

MailChimp's temporary solution is for publishers (us) to ask their audiences (you) to manually move our emails to your primary inboxes. If you're one of the people who had to fish today's newsletter out of your spam folder, clicking the "Report not spam" button (pictured above) should ensure that our emails get delivered normally from now on.
We've had unrelated complaints about MailChimp in the past, and as tempting as it is for us to dunk on that cursed monkey, we can sympathize with them twisting in Google's wind. It happens to us all the time. It comes with the territory when you're a software company that relies on ecosystems you have no control over.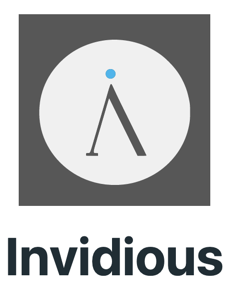 In terms of wider industry news, YouTube's lawyers sent a cease and desist letter to Invidious yesterday. Invidious makes a YouTube front end that blocks trackers (each page on youtube.com has an average of seven), allows its users to create playlists without needing a YouTube account, and blocks ads.
This represents an escalation in YouTube's war on ad blockers. Many of you may recall that YouTube was showing people pop-ups that instructed them to disable their ad blocking browser extensions a few weeks ago. They're now going after entities that make more sophisticated ad blocking solutions.
Invidious will probably not get shut down immediately. YouTube's cease and desist letter focuses on the fact that Invidious doesn't follow YouTube's API guidelines. However, as the smartass response that Invidious posted to their github page notes, they're not using YouTube's API. The Invidious team seems to accept the fact that their days are numbered though (David never beats Goliath in corporate litigation), so for now they're stating that "things will continue normally until they can't anymore," and they're asking people to download the software now to keep the project alive.
Another ongoing API story concerns Reddit. Reddit is doing what it can to create new revenue streams because it's gearing up to go public. Starting on July 1, Reddit will begin charging people and companies for using its API. It has historically been available for free.
The biggest consequence of this API monetization is the fact that it's putting Apollo, a wildly popular third party app, out of business. Apollo is passionately loved by its users, so much so that Apple repeatedly cited it as an app that will be compatible with its new Vision Pro hardware that was announced on Monday. An explanatory post from Apollo's creator is full of responses from people who are deleting their accounts in protest. Despite this, Reddit is sticking to its guns.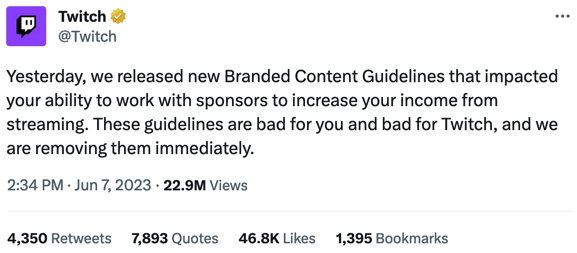 Twitch, the most popular live streaming platform in the world, also announced new policies going into effect on July 1. The new rules concerned branded content and would've kneecapped its streamers' incomes. As you might expect, these new policies were widely hated. There isn't much need to dwell on this because it's something that ended up not happening. You can read the tweet above this paragraph to see how Twitch caved. It's just interesting to note that Reddit doubled down in the face of intense backlash while Twitch did an immediate 180.
In terms of worthy marketing links to close out this week's newsletter, we're going to start off with one that circles back to two organizations we've already mentioned. Search Engine Journal released 10 YouTube Marketing Strategies & Tips yesterday. Some of the lists we've linked to in the past were duds, but this is a good one. Also, Google will release News Showcase this summer. In the past, Google News aggregated journalism without paying royalties; at launch, News Showcase will pay 150 U.S. news outlets for their content. Finally, Mark Zuckerberg appeared on the Lex Fridman podcast for the second time yesterday. The interview is over 2.5 hours long. Lex starts it out by asking Mark about jiu-jitsu, a hobby Mark has gotten into recently. Disappointingly, they did not discuss the rumors of Zuckerberg getting choked unconscious in one of his recent matches.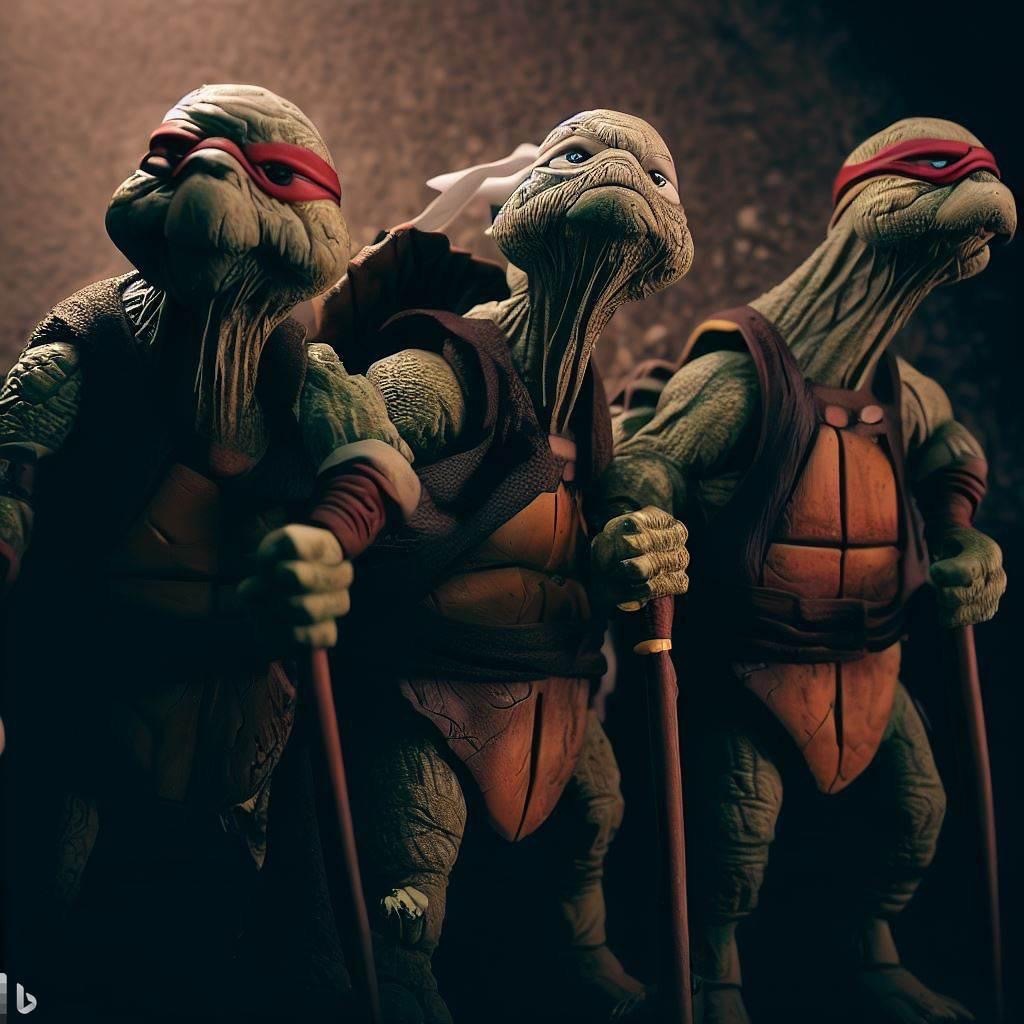 If you're wondering what that is, it's what Bing Image Creator came up with when prompted for elderly mutant ninja turtles. If you've never messed around with AI-generated artwork, you might be surprised by how entertaining and impressive it is.
We're done now. Have a great weekend.