How's it going? Today's blog post will be a bit briefer than it usually is. We're at a tulip festival (of all things) right now, and we finished writing last night. If something newsworthy happened this morning, we'll cover it next week.
Nate, our CTO, will be hosting another AMA on May 3 at 2 PM EDT/11 AM PDT. You can register for it here. Anyone in attendance will be able to pick his brain about digital marketing and local SEO after he finishes his prepared talk about our new features. Nate's consultations go for $500 per hour, so showing up is a great way to benefit from his expertise for free. We hope to see you there.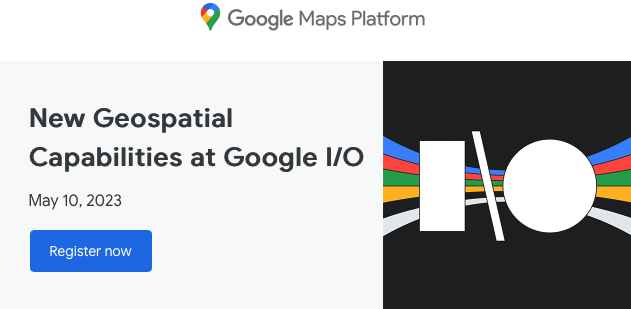 We're subscribed to a number of mailing lists that help us stay on top of industry news. That's how we know that the Google Maps team will be giving two talks at the upcoming Google I/O event on May 10. The first one is going to be called "create immersive map experiences with new capabilities." We have no way of knowing what these new capabilities are yet, and the event description is pretty vague.
The second Google Maps session will be called "use data-driven, advanced styling to build immersive map experiences." This is the talk that will probably be of the most interest to all of us. It looks like we'll soon have a few ways to add branding to embedded maps. Since we're scared of misinterpreting the event overview, we'll quote it verbatim:
"Build highly customized maps to provide a richer user experience and showcase your brand, with new Google Maps Platform capabilities. Use data-driven styling to display and style Google's polygons for administrative boundaries with your business data, and learn about brand new styling capabilities. Utilize Advanced Markers to create customized, more performant markers to help differentiate your brand. Learn how to use these tools to easily create more engaging, custom map experiences."
We don't actually recommend watching these talks. Our prediction is that they'll be dry and packed with developer jargon. Maybe one of the speakers will try to lighten the mood with some clever puns about floating point variables or something, but we can't imagine that most of you would enjoy devoting a few hours to these videos. We'll watch them on your behalf and let you know about the stuff that pertains to digital marketing. You'll have our recap in two weeks.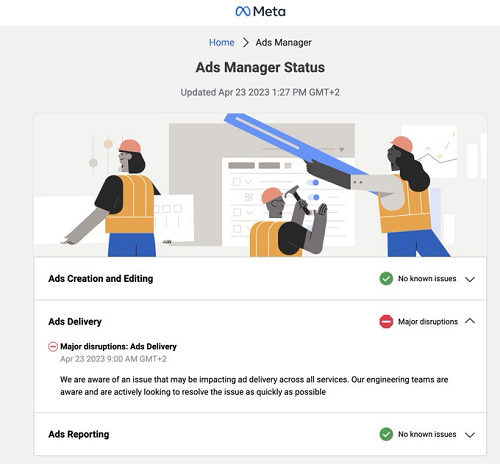 If any of you are running Facebook ads that you don't pay close attention to, you may want to set a few minutes aside to check how much you were charged for any campaigns that were active last Saturday. Their ad delivery system went haywire and CPMs (the cost you pay per thousand impressions) shot up to five times what they should've been in some cases. The problem has been fixed and Facebook says it's reaching out to the affected parties, but Facebook's honesty should never factor into your financial calculations. Better safe than sorry.
Things aren't all bad for Facebook these days. Their stock price has been rising all year for no apparent reason. They're still losing money on Reels (Instagram's short form videos that compete with TikTok), but they're losing less money than they used to. On Wednesday, Meta's finance chief said that Reels are nearing a breakeven point.
Google's in worse shape. Ars Technica recently published an article that raked Bard (Google's nowhere-near-as-good-as-ChatGPT generative AI effort) over the coals, quoting an employee who called it "worse than useless." Despite Search revenue rising by 2% this quarter, YouTube's 3% drop dragged Alphabet's overall ad revenue down by about a hundred million dollars (roughly 0.2%).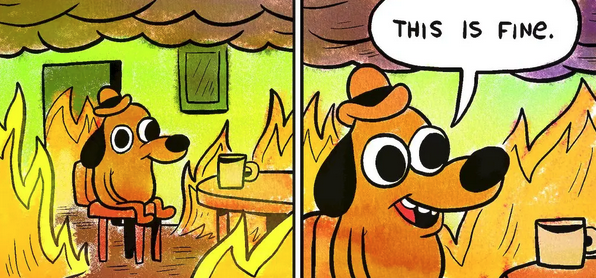 The overall standing of a Silicon Valley behemoth shouldn't really concern us as marketers. Bad news for Alphabet isn't bad news for us. Google Search is still (nominally) growing. That's where we make our money. Sure– we may need to give ourselves a crash course in Bing's business ecosystem sometime soon, but all that means is we'd be looking at a demand for new services. Capitalism and the internet are both here to stay, which means digital marketing is too.
We'll start looking for some practical Bing courses and tutorials so we can pass the valuable information along in an upcoming newsletter. There's always a chance that all of the hype surrounding Bing's looming AI-assisted search will fizzle out and amount to nothing, but we'd all be better off knowing things we don't need to than needing to know things we don't.

Here are some links to close things out. First, Search Engine Journal has an instructive article about how you can use ChatGPT for keyword research. Next, if you've never seen the CW&T earth clock, you should check it out. It uses five Google Earth images (the third one always being a colon) to display the time. The image above this paragraph shows 12:15 PM. Watch it for about a minute to see how it works. It doesn't have anything to do with marketing, but it's neat. Our third link has some insight into Bluesky Social, a new Twitter rival (that was founded by Jack Dorsey, one of Twitter's creators) whose popularity is surging. Bluesky currently requires an invitation if you want to create an account, and all of the articles we could find that supposedly explain how you can acquire an invite basically just tell you to ask an already-connected friend. Finally, we'd like to ask all of you for a moment of silence in remembrance of Jerry Springer, the man who won daytime television's race to the bottom and the former mayor of Cincinnati. He was taken from us too soon.
That's all for today. Don't forget to drop by Nate's AMA on Wednesday. Have a great weekend.