Hello. We hope you've all had a great week so far.
Google's August 2023 core update ran for a total of 16 days, officially finishing up yesterday at 4:03 PM EDT. It was the longest-running core update of 2023. Updates in April, March, and February ran for 13 days, 13 days, and 14 days. The information we gave you last week about it being mildly impactful now appears to be usurped by six more days of algorithm tweaking.
It's probably too soon to make sweeping declarations about how this core update is affecting rankings and website traffic. We'll circle back to that next week after more dust settles. Besides, Google is giving most of its attention to its milestone 25th birthday right now.

The joke that's going around about Google turning 25 is that Leonardo DiCaprio just ditched it for Yahoo. It references his lifelong track record of never dating a woman aged 26 or older. He will be 49 in November. The faulty logic here is that Yahoo is older than Google.
It's worth pointing out that Google isn't especially good at connecting with women its own age either. Yesterday, Search Engine Land reported a survey that found 51% of Gen Z women prefer TikTok to Google for search. That builds on a trend that we mentioned almost exactly a year ago when The New York Times quoted Prabhakar Raghavan, a Google SVP, saying "in our studies, something like almost 40% of young people, when they're looking for a place for lunch, they don't go to Google Maps or Search. They go to TikTok or Instagram."
It's trendy for celebrities and tech superstars in California to pay around $8,000 per month to incorporate the plasma from healthy 20-somethings into their blood (despite the FDA repeatedly stating that those treatments have "no proven clinical benefits"). Maybe that's Mr. DiCaprio's plan to keep up with young people. What Google can do is less clear.
Whatever the future holds, Google and Google Maps aren't in any kind of near-term trouble. Despite the big splash Microsoft made when it folded ChatGPT into Bing (a splash we contributed to), and even though there are lots of articles that showcase younger people's preferences for other ways of searching, Google is still in a league of its own.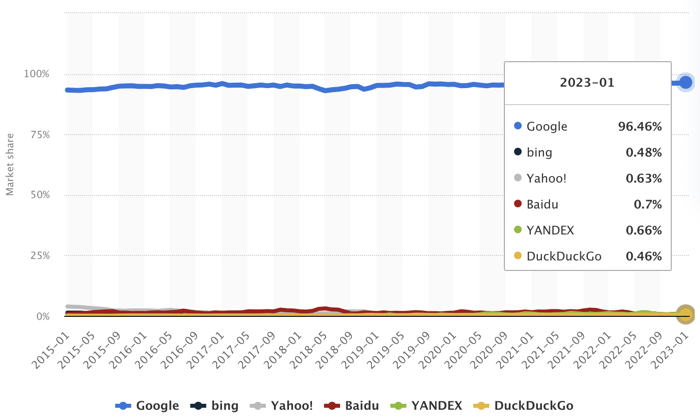 Google dominates desktop search with an 83.5% global market share. That's what the numbers from two months ago say (the most recent reliable reporting period). Mobile search is where Google truly shines though. The most recent numbers there are from January when Google had 96.5% of the global search market.
You know who is in trouble right now? Twitter. A lesson we recently learned is that talking about its objectively factual woes can lead to political accusations. We'll just tell you what reputable news outlets are saying.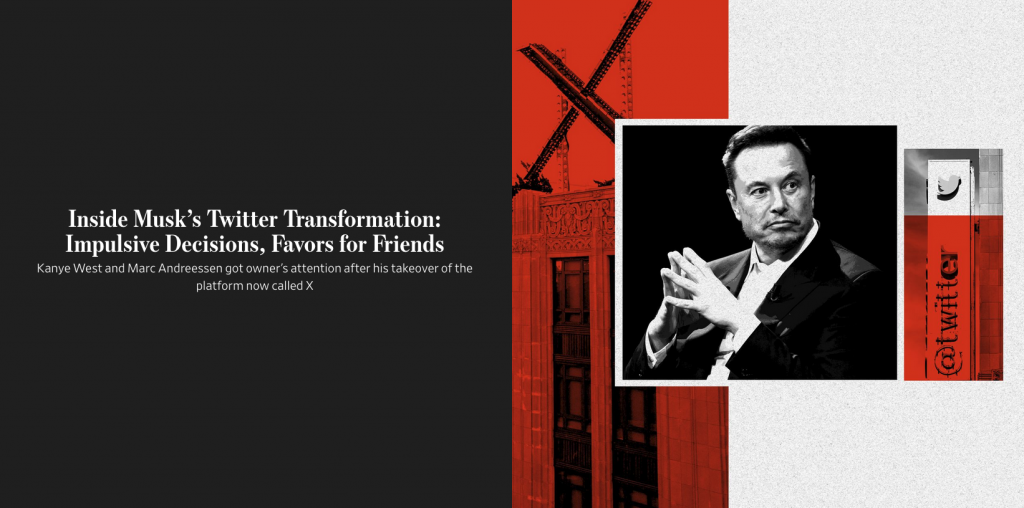 The Wall Street Journal ran a piece about Twitter yesterday. It isn't flattering. CNN ran a similar article on Tuesday. The Daily Beast chimed in on Wednesday (Yahoo picked that story up and ran it too). All four of those sources said that Twitter's US ad revenue is down 60% since Elon Musk took it over.
The good news for Twitter is that there are no shareholders to answer to. In all fairness, Mr. Musk bought the platform and it's now his to do with as he likes.
We're going to wrap things up now. Here are some links to see you out.
We saw an interesting video about what's going on with Disney right now. ESPN is one of its most valuable assets (for those of you outside of the United States: ESPN is a live sports broadcaster), but the channel is stuck in a ton of regional, multiyear contracts that keep it anchored in traditional cable television. Disney's inability to squeeze much streaming revenue out of ESPN is one of many reasons why Disney is hemorrhaging money. This ten-minute video has a comprehensive analysis of Disney's many woes.
Insider Intelligence just completed a report. It concludes that influencer marketing spend will rise 3.5 times faster than social ad spending this year. The report has a lot more information than just that. If you want to take a look at the highlights, you can find them on this Social Media Today page.
If any of you are planning SMS campaigns for Black Friday or Cyber Monday, this BFCM (we don't know what the letters stand for) page has some message templates that have proved to be effective. The page formatting is a bit unorthodox, but the content is worthwhile.
That's all for today. Take care of yourselves out there.